Pharmaceutical sector in Bangladesh and food register the highest profit growth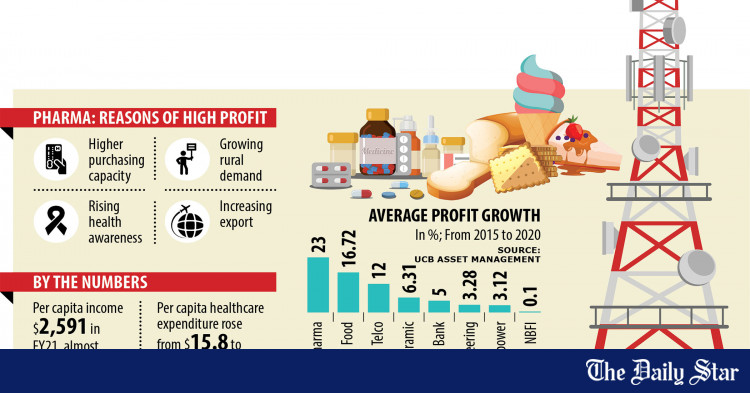 The pharmaceutical sector in Bangladesh has shown the fastest growth in profits between 2015 and 2020 as more and more people, armed with rising purchasing power, afford more healthcare products.
The Dhaka Stock Exchange (DSE) divided 384 listed companies into 22 sectors and its data showed that the pharmaceutical sector saw the strongest profit growth during the period.
The five-year average drugmaker earnings growth was 23%. The food and related sector came in second place with profit growth of 17%, according to data compiled by UCB Asset Management.
Average earnings growth for the telecommunications sector was 12 percent, while it was 6.31 percent for the ceramics sector and 5 percent for the banking sector.
Of Bangladesh's pharmaceutical companies, 32 are listed on the DSE, including market leaders Square Pharmaceuticals, Beximco, Renata, Acme, ACI and Ibn Sina.
"As people's per capita income has increased and general awareness has increased, people are now consuming more drugs," said M Mohibuz Zaman, COO of ACI Pharmaceuticals.
Per capita income in Bangladesh rose to $2,591 in the last fiscal year 2020-2021, almost doubling from $1,316 in 2014-2015, according to data from the Bangladesh Bureau of Statistics (BBS).
Over the past decade, rural markets have been the main growth engine for pharmaceuticals, aided by the modernization of the agricultural sector and large government development projects.
Remittances, sent by millions of migrant workers, have changed the economic landscape in rural areas. As rural household income increases, people spend more to access health products.
"Its impact was visible in the earnings of all industries, including the pharmaceutical sector," Zaman added.
Per capita health spending in Bangladesh nearly tripled to $41.9 from $15.8 over the past decade, according to the BBS.
The number of private health establishments increased to 16,979 in 2021 from 3,536 in 2000.
When people's standard of living increases, they increase their spending on medicines and lifestyle products, according to Jubayer Alam, general secretary of Renata.
"There was a time when people were delaying getting treatment because they couldn't afford it. Now most of them get to treatment fairly quickly and take medication."
The pharmaceutical sector, which meets 97% of local demand, has experienced compound annual growth of 12.1% over the past five years. The market size was Tk 27,500 crore in June 2021, according to a report by UCB.
Drugmakers are also making new investments as their sales increase in local and international markets, Alam said.
And in order to meet the demand of foreign markets, the biggest pharmaceutical companies have upgraded their factories to international standards and compete with global companies.
Bangladesh's drug exports have tripled over the past decade, reaching $169 million in the last fiscal year, according to the Export Promotion Bureau.
The booming poultry industry is also contributing to the fastest growth in profits for pharmaceutical companies. The animal health industry is a Tk 3,000 crore market with local drug manufacturers holding 70% of the market.
Shekh Mohammad Rashedul Hasan, managing director of UCB Asset Management, says people are now taking more health measures like regular health checkups.
In Bangladesh, life expectancy has also increased. As the number of older people increases, they need more health products because they are living longer, he said.
"Our dietary habit also leads to increased drug consumption."
Among listed pharmaceutical companies, Square Pharmaceuticals recorded the highest profit of Tk 1276 crore in 2019-2020, followed by Renata Tk 412 crore and Beximco Pharmaceuticals Tk 354 crore.
Central Pharmaceuticals was the worst performing drugmaker in the same fiscal year as it lost 110 crore of Tk.
Madad Ali Virani, Executive Director of Operations at Olympic Industries, one of the leading food processing companies in Bangladesh, said, "Increased sales have enabled higher profit growth. Our efficiency has also improved, so the profits of the sector have increased.
Khondaker Golam Moazzem, research director at the Center for Policy Dialogue, said that as the economy grows and people's incomes rise, domestically oriented sectors such as pharmaceuticals and food are doing well thanks to a large local market.
Profits for the tannery sector fell 55% between 2015 and 2020, followed by a 22% decline for the textile sector and 7% for the cement sector, according to UCB data.
The tannery sector has been struggling for several years and on many occasions tanners have struggled to sell leather and struggled to repay bank loans, Moazzem added.